Forget that snuggie, this drink is a golden, cozy hug in a glass.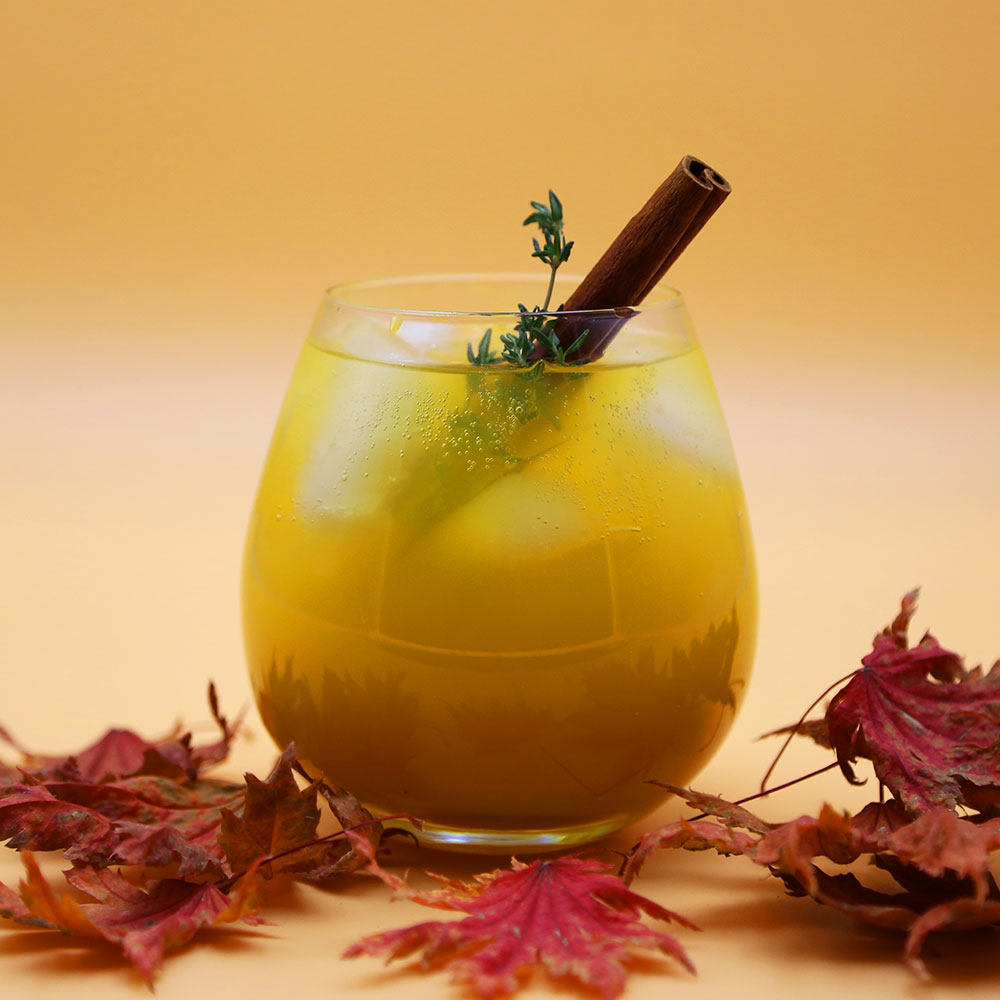 I invented this drink in the autumn of 2020, when I was still drinking alcohol but trying to cut down. On sober days, or even just between beers, I wanted something seasonal and hydrating, with a bit of bite to it. It was also my sister-in-law's birthday but she had just had surgery and couldn't drink alcohol during her convalescence. I wanted to have something tasty on hand to serve when she came over for a birthday supper.
Two things I usually have kicking around my fridge that time of year are thyme and fresh pressed, non-alcoholic apple cider. I also had a bottle of Golden Turmeric Elixir from Alchemy Australia sitting on my counter. Once I clocked that these three beauties were all living under the same roof, the drink pretty much made itself. The apple cider vinegar adds a bit of an acerbic kick, which can be a great trick if you are craving the bite of booze.
Thyme Liqueur*
2 cups water
10 sprigs thyme
1/3 cup honey
Turmeric Thyme Apple Pie
3/4 cup fresh pressed, non-alcoholic apple cider
3/4 tbsp thyme simple syrup
1.5 tbsp Golden Turmeric Elixir (if you can't find this where you live, you can try making your own turmeric syrup)
1/2 tsp apple cider vinegar
a squeeze of lemon (optional)
soda water or ginger beer, to top up
sprig of thyme and cinnamon stick for garnish
*I call my simple syrups 'liqueurs' because they are made with honey instead of white sugar, with a reduced ratio of sweetness to water. They are less viscous than syrup and can be enjoyed on their own in a small fancy glass if you like sipping on something sweet.
Make your thyme liqueur by bringing water to a boil in a small saucepan. Reduce heat and add thyme sprigs, simmering for 10 minutes. Remove from heat and stir in honey while mixture is still hot. Allow to steep for at least an hour.
To mix the drink, fill a large wine tumbler with ice, add all ingredients and stir. Garnish with thyme and cinnamon stick, then enjoy!