Cinnamon citrus sour. Planning any long seafaring voyages soon? Best to drink one of these first.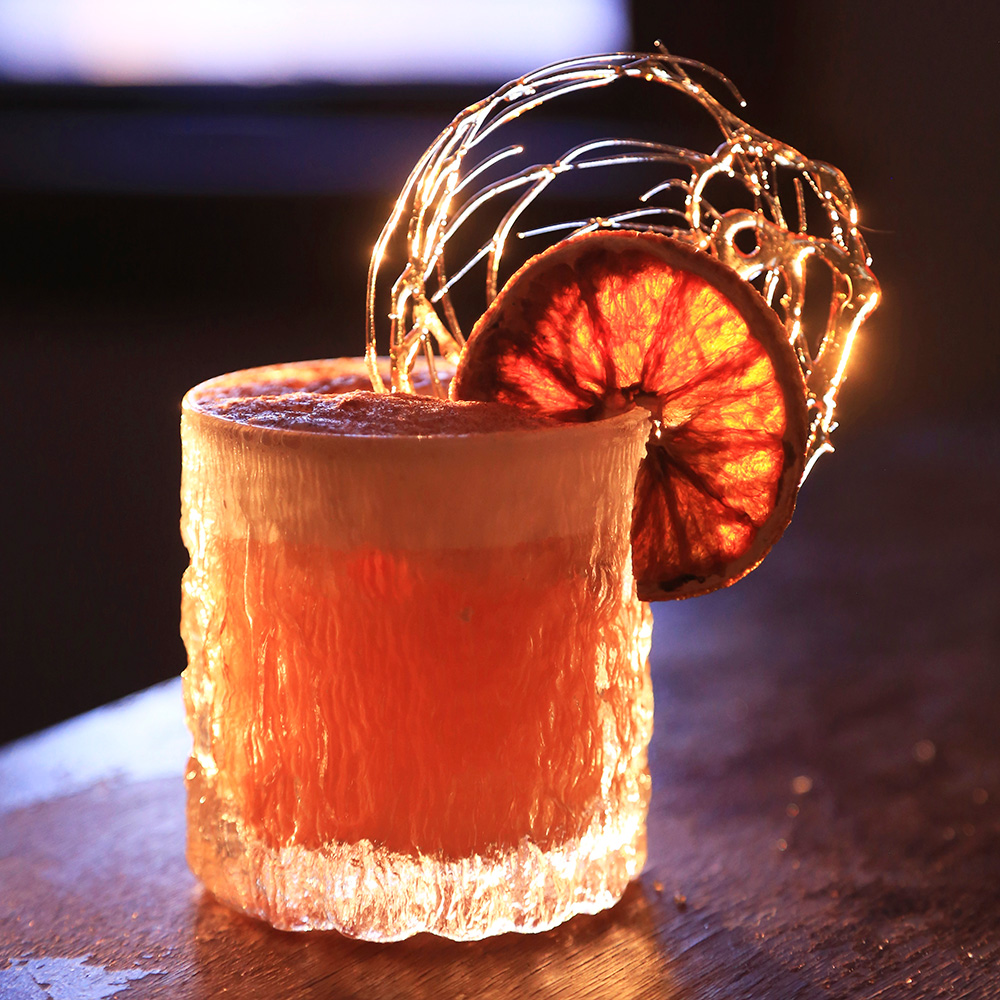 Let's be clear — this drink won't GIVE you scurvy, but with half a produce section's worth of citrus in it, this bevvy sure will help you fend off any impending bouts of rickets or bulging eyeballs. Because, in a world gone mad, you don't need that noise to worry about on top of everything else.
I had to make this drink five times before I got it right — it just wasn't sour enough. I started with a third of a lemon, then half of one… Finally, I went full Matty Matheson and threw in the juice of an entire lemon, an entire orange, PLUS some apple cider vinegar. Even with all those acids cranking up the volume on this drink's tartness, the cinnamon liqueur and creamy egg foam keep the pucker-factor well below Warheads level, balancing everything out into the smooth, elevated brightness that you expect from a sour.
Cinnamon liqueur:*
2 cups water
5 cinnamon sticks
1/3 cup honey
Scurvy Sour:
orange zest, peeled into 2-3 long strips (no white pith)
lemon zest, peeled into 2-3 long strips (no white pith)
1 naval orange, juiced 1 lemon, juiced
3/4 oz cinnamon liqueur
1/8 tsp (level) ground cinnamon
1/2 tsp apple cider vinegar
scant 1/4 tsp orange bitters
1 egg white
*I call my simple syrups 'liqueurs' because they are made with honey instead of white sugar, with a reduced ratio of sweetness to water. They are less viscous than a syrup and can be enjoyed on their own in a small fancy glass if you like a sip of something sweet.
Make cinnamon liqueur by bringing water to a boil in a small saucepan. Add cinnamon sticks, then reduce to a simmer for 10 minutes. Remove from heat and stir in honey while liqueur is hot. Allow to steep for at least an hour.
When you are ready to mix your mocktail, muddle the orange and lemon peels to wake the oils up, then add orange juice, lemon juice, apple cider vinegar, cinnamon liqueur, ground cinnamon and bitters. Let sit for a few minutes then remove citrus peels. Add egg white and shake vigorously for about 15 seconds (this drink is also delicious with no egg, so you can skip this step if you want, leaving the peels in). Add ice to shaker and continue shaking for 10 seconds, then strain everything into a highball glass. Sours with egg typically don't have ice, while sours without typically do. For garnish, I happened to have some dried orange slices and sugar tuiles, but a maraschino cherry and twist of lemon or orange tends to be the standard.